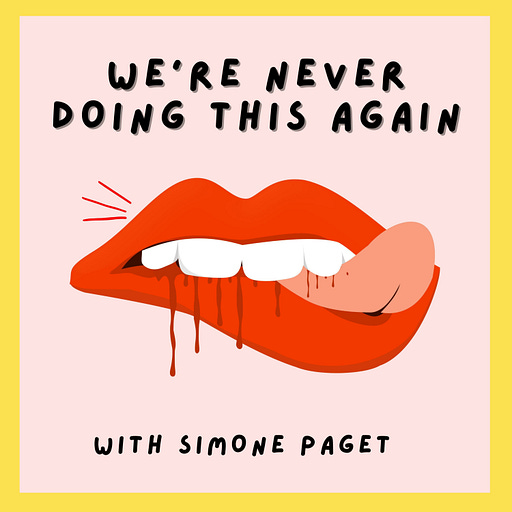 May 5 • 1HR 18M
Conan Humour with a Dan Connor Bod (with Mel Zee)
Welcome to We're Never Doing This Again: a podcast about sex, dating, and all of those weird & wonderful messy experiences that we have no desire to repeat. Hosted by real-life sex columnist, Simone Paget.
Oh, the Adam Levine of it all! In this episode, Simone is joined by Mel Zee to discuss aggressive monogamy, dating after death, being single in Vancouver, and the current state of online dating profiles. We meet several Catfishes, a man who serenades his date in the weirdest way possible and a guy who's obsessed with CrossFit (and talking about himself). Mel and Simone critique online dating profiles and cap off the episode with a rapid-fire game of FMK.
Follow Mel on TikTok and visit her Etsy store to buy her F*ck Incels (not literally) tote & more:
https://www.etsy.com/shop/sorryibroughtitup/?etsrc=sdt
Follow Simone on Instagram and read the latest issue of Love, Peace, and Tacos:
https://simonepaget.substack.com/
Follow the show @neveragainpod.