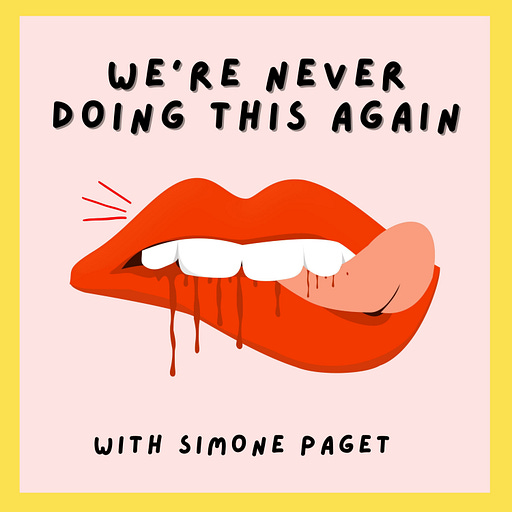 Feb 17 • 1HR 16M
The Cross-eyed Cowboy (with Elizabeth Bull)
Welcome to We're Never Doing This Again: a podcast about sex, dating, and all of those weird & wonderful messy experiences that we have no desire to repeat. Hosted by real-life sex columnist, Simone Paget.
In this episode, Simone is joined by Elizabeth Bull, a former fashion editor, and fellow Beyonce enthusiast. Elizabeth and Simone discuss dating in Vancouver as a plus-sized woman, perfumes from the 1990s, and Matchmaker Maria's 12-date rule. Elizabeth recounts a first (and last) date with a cross-eyed cowboy and a second date with a man who burst into tears after taking seven shots. Is height a dealbreaker? The pair discuss. Simone recounts dating a man who resembled a garden gnome and a dysfunctional ex-boyfriend who lacked gift-giving etiquette. The episode wraps up with a rapid-fire game of F*ck, Marry Kill: problematic date edition. 
Got a crazy dating story? A wild breakup tale? Something else you'd like to get off your chest? Email: neveragainpod@gmail.com to be featured on the show.